Ref:
Date:
Location:
Photographer:
Ref:
Date:
Location:
Photographer:
Born in West Yorkshire, Véronique now lives and works as an artist and tutor in Sheffield, South Yorkshire, where she gained her degree in Fine Art Painting and Printmaking at the Sheffield Hallam University. Her paintings can be seen at local exhibitions and fairs around the country. A very versatile artist, Véronique dabbles in drawing, painting, collage, illustration and printmaking.
Véronique uses various aspects of nature as subject matter for her work, her main interests being flowers, creatures and natural forms. Véronique's work also examines the relationship between people and nature and how we interact with the natural world surrounding us, being part of it in life and death as organic and spiritual beings. Nature's often unusual beauty is what inspires her to capture a feeling from when she first encountered a flower, bird or insect. Véronique is inspired by the true joy generated from such an experience and her work explores this beauty through colour and form.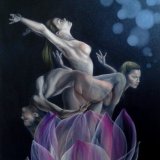 Véronique's main choice of medium is oils. Working with oils enables her to truly express herself, allowing for manipulation through blending and smoothing. Layers of paint can be applied to build up tone and glazing techniques result in luminosity and vibrancy. Véronique spent 6 years gradually developing a painting technique which is unique to the substance of her work and style of painting. She has studied various painting techniques including the Old Masters' translucent glazes of oils and furthered these techniques by separating each layer to give voice to individual images overlapping another. This technique may suggest movement, distance, light, transparency and some of the delicate structures often found in nature. The technique indicates the complexities of the thought processes relating to the subject matter of her work. Véronique's oil painting techniques result in smooth strokes of intense colour, working in layers of paint at intervals allowing the paint to dry in between, giving the artist control over the gradual build up in tone. The result is colour luminosity and vibrancy.
Through her artistic practice and teaching Véronique hopes to make art accessible to anyone, as well as draw attention to the beauties found in nature. Véronique is also available for commissions.